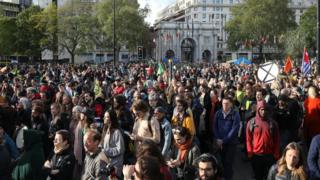 Climate activists gathered to mark the end of protests that caused 11 days of disruption across London.
More than 1,100 people have been arrested since campaigners from Extinction Rebellion first blocked traffic in the capital on 15 April.
On the final day of action, protesters blocked roads, climbed on a train and glued themselves together in London's financial district.
Hundreds of people met in Hyde Park for a "closing ceremony".
Campaigners sat on the grass next to Speaker's Corner – widely considered London's home of free speech – singing and listening to musicians.
Transport for London said all roads are open around Marble Arch.
Skeena Rathor, of Extinction Rebellion, welcomed the "rebels" to the ceremony and described the crowd as "beautiful beings", adding: "This is our pause ceremony.
"Welcome to the beginning of our pause."
She invited the crowd to "begin a process of reflection", adding: "Thank you for what you have done this week. It is enormous. It is beyond words."
The crowd cheered and clapped when a speaker said "the police were amazing" during the days of blockades.
"We will leave the physical locations but a space for truth-telling has been opened up in the world," event organisers said on their Facebook page.
"We would like to thank Londoners for opening their hearts and demonstrating their willingness to act on that truth.
"We know we have disrupted your lives. We do not do this lightly. We only do this because this is an emergency."
Extinction Rebellion is urging the government to "tell the truth" about the scale of the climate crisis. It wants the UK to reduce carbon emissions to net zero by 2025 and a Citizens' Assembly set up to oversee the changes needed to achieve this.
On Thursday, 26 people were arrested on suspicion of aggravated trespass outside the Stock Exchange and on Fleet Street, bringing the total number of arrests up to 1,130 since the protests began on 15 April, the Met Police said.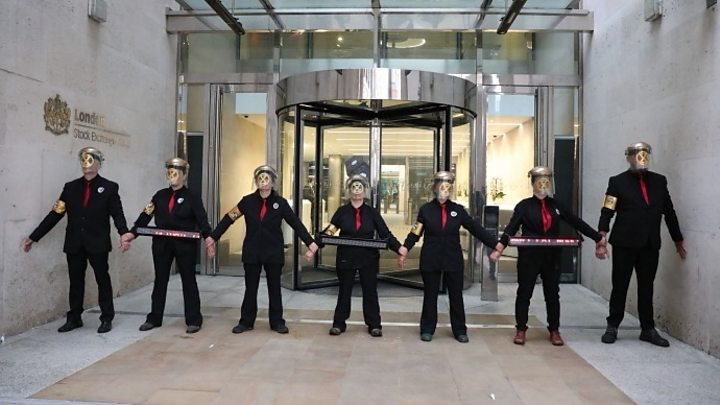 Four people stood on top of a Docklands Light Railway (DLR) train while another glued herself to a train.
Five people were arrested on suspicion of obstructing the railway, the British Transport Police said.
Meanwhile, Dame Emma Thompson, who joined the activists on Saturday, has defended flying from Los Angeles to London to take part.
The actress said it was "very difficult to do my job without occasionally flying" but she was "in the very fortunate position of being able to offset my carbon footprint".
More than 10,000 police officers have been deployed during the action.
Mayor of London Sadiq Khan said the protests had been a "huge challenge for our over-stretched and under-resourced Metropolitan Police".
The Met said on Wednesday it had imposed new conditions under the Public Order Act on the protest area in Marble Arch, making it a criminal offence to protest outside a designated area or incite others to protest outside of it.
The conditions will remain in force until Saturday.
Sign up for a weekly chat about climate change on Facebook Messenger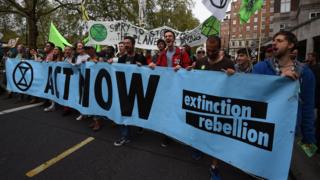 Extinction Rebellion activists are marching on Parliament to invite MPs to discuss climate change policies.
More than 1,000 people have been arrested since the protests began in central London a week ago.
Police said a "robust" plan was in place and protesters must leave Parliament Square by midnight.
Protesters left Marble Arch, which had been occupied since 15 April, carrying flags and banners and marching to drums shortly after 10:00 BST.
Demonstrators have previously suggested temporarily ending disruptive tactics to focus on political negotiations, as the campaign enters a second week.
'Renewed push'
Makeshift camps at Oxford Circus and Waterloo Bridge have been cleared, but activists remain at Marble Arch.
Jay Monk, 49, who is taking part in the march, said it was a signal of a "renewed push" to have politicians answer the group's demands.
Campaigners have three core demands: for the government to "tell the truth about climate change"; to reduce carbon emissions to zero by 2025; and to create a citizens' assembly to oversee progress.
The Met Police said anyone failing to comply with its condition to leave Parliament Square by 23:59 would be "committing an offence and will be liable to arrest".
Teenage activist Greta Thunberg has invited party leaders to a meeting in the House of Commons.
The 16-year-old Nobel Peace Prize nominee is expected to meet the leaders at around 11:30 before giving a speech at a meeting in Portcullis House at about 14:00.
MPs are returning to Parliament after a week-long recess.
Protester Steve Jones, 53, suggested some of the disruption might be relaxed if the group was granted "meaningful discussions" with the government.
On Monday, at least 100 protesters laid down under the blue whale skeleton at the Natural History Museum in a coordinated "die in".
Most of the demonstrators finished their lie-down protest after about half an hour.